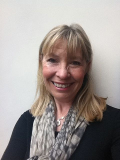 Fieldview's collaborating consultant Trish Hiddleston has over two decades of international field experience across various development and humanitarian contexts. She has worked in a variety of capacities with UN agencies (UNICEF, UNHCR, OHCHR, UNSMIL) as well as a range of NGOs including Amnesty International, Child Frontiers, Danish Refugee Council, Human Rights Watch, International Federation of Human Rights, Refugees International, and Save the Children.
Originally trained as a public health community nurse specialising in children, Trish went on to qualify as a lawyer.  She holds a Masters Degree in Public Policy from Princeton University and is currently completing a PhD focusing on child protection systems in humanitarian contexts at the London School of Economics and Political Science (LSE).
Trish was Human Rights Watch's in-country representative researcher in Rwanda from early 1996 to late 1999. For some of that period, after the Rwandan government ordered the UN's Human Rights Field Operation in Rwanda to leave the country, she was the only international human rights researcher in the country. Much of her efforts were spent supporting and promoting the work of Rwandan human rights organisations.
From 2002 to 2005 Trish headed up UNICEF's Child Protection Programme programme in the Democratic Republic of Congo during a particularly challenging and complex period of the country's history. She went on to lead UNICEF's regional Child and Adolescent Protection and Development Cluster in the Middle East and North Africa. Based in the Regional Office in Jordan she travelled widely in the region supporting twenty UNICEF country offices and regional partners. Amongst her work since then she has been the Senior Advisor to the Special Representative of the Secretary General in UNSMIL on child protection in Libya and has carried out a variety of international and home-based consultancies.